Cultural competency training and consultancy with Darren Rewi. Māori narratives, Māori engagement and guidance from Tāhuna's most respected kaumātua.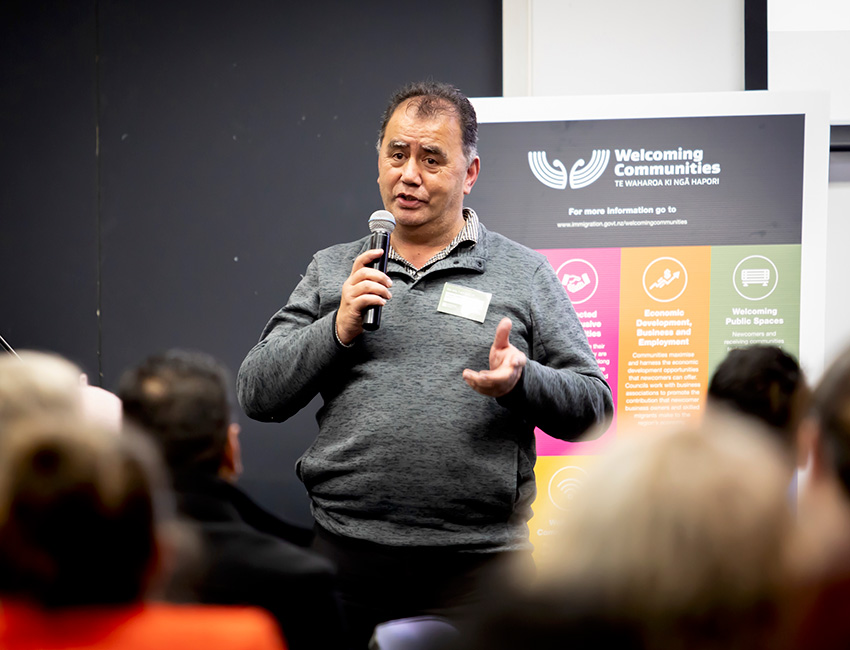 Ko wai au ko Darren Rewi taku ingoa
Takitimu te waka, Takitimu ka mauka, Murihiku te whenua. 
Waitaha me Kati mamoe me Kai Tahu te iwi taku mama.
Ngati Kahungungu ki wairoa me Rongomaiwahine me Rongowhakaata te iwi taku papa.
Kawarau ka mauka, Kawarau te awa, Whakatipu wai maori te roto.
Tahuna taku haukaika
Kei aku nui kei aku rahi tena koutou katoa.
Our Story
Tāke Tuia was established in 2020, at a time when New Zealand was feeling the impact of the Covid pandemic. At a local level, Darren Rewi was supporting Māori whānau and the wider community of Queenstown and Wānaka to navigate through the many challenges. Inspired by the community's resilience and driven by a desire to find opportunities in adversity, Darren started Tāke Tuia. Through Tāke Tuia, Darren is driven to connect cultures. He works to support Māori whānau but also businesses and organisations looking to connect and engage with Māori.
We are conduits for connection.
And when we are all connected, we all benefit.
When our community's leading organisations and people connect with mātauranga (Māori knowledge), we are laying the foundations for a better future. We work with clients and whānau who have a desire to do things better, a preference for collaboration and a desire to create a connected way of living.
Through stories we will enable equity.
Darren Rewi is one of Central Otago's most senior kaumātua. His work has taken him from kindergartens and schools to corporate boardrooms and government offices. He is the founder of Mana Tāhuna Charitable Trust, the owner of Engage Safety and an exemplar of manaakitanga. Darren believes that Māori values and wisdom can extend throughout our communities, even in places we may not expect. Businesses can do as people do.
A gifted storyteller and man of great mana, Darren is dedicated to his community. His work ensures local Māori have a voice within the community, and that voice is heard. His great gift is an ability to identify that unifying point of connection and act as the conduit between organisations and Kai Tahu.
Relatable and approachable, Darren draws on experience in the corporate, governance and not-for-profit fields as well as his position as kaumātua, business owner, and family man to encourage and lead.
What our clients have to say
Darren Rewi and the Tāke Tuia team have been extremely helpful working with Lake Wānaka Tourism in a range of work from cultural advice, karakia, opening and closing functions and events, through to wānanga and training sessions for our member businesses and community sessions. These have been invaluable in helping increase knowledge and familiarity of Te Ao Māori and matauraka Māori. Of all the business training sessions we have held, these have been our most popular and are usually over-subscribed.
Darren is a generous and inclusive storyteller with a broad and deep knowledge of Te Ao Māori and Kai Tahu history that connects his audience to this place. Darren's open minded and approachable delivery of local history, place names, and tikanga provides context that inspires a learning journey. We look forward to working more with Darren.
A better way of moving forward
Discover how engagement can strengthen communities and the organisations within them.